Jamur2.net
A site on the internet
April 27, 2014 at 08:00 PM | categories:
games
|
View Comments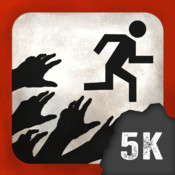 I know, I know. The internet has already jumped on the whole "zombies" meme, sucked it dry, and deemed it over. Still, as cheesy as the concept is, Six to Start's Zombies, Run! 5K Training app is one of the few purchases I've made that not only turned into a habit, but a healthy one at that. The basic concept is that you run the app while jogging, and short clips of an ongoing audioplay fire off in between the music you listen to as you run. There's some light progression and base-building aspects, but the main attraction is the audioplay.
The app comes in two basic packages: the couch-to-5k training app that is structured to get your endurance up to running a 5k in 8 weeks (it took me 10, given our freakishly snowy winter), and the full app, which has a lot more features, but assumes you can run for 30 minutes at a time (at least, if you want to "play along" with the audioplay). Because I'm a sedentary computer programmer, I started with the 5K trainer. Prior to the trainer, I kind of enjoyed jogging, but I didn't do it regularly, and was pretty much spent after about a mile. The trainer both got me out jogging regularly, and had me doing increasingly longer intervals to get my endurance up to go a full 5k without walking. Still, if you can run a 5k today, you'll find the trainer pretty mind-numbing and you'll probably want to go straight to the "full" app as the trainer assumes you've never jogged in your life, and not much happens story-wise. The "full" app is much more featureful, and the storylines have been more interesting since I've graduated to the full app.
I can't say the app will work for you, but for me the episodic story nature got me in the regular habit, and once the health benefits start kicking in (starting with better times on runs, and progressing to weight loss and better sleep patterns), the app has made running a habit that I'd find hard to kick. I highly recommend giving it a shot if you think it could work for you. Also, I respect a mobile game that has the guts to fairly price its content and not hammer me with ads or in-your-face upsells. The trainer is only $2, and after going through that, I've purchased all the content from the full app mainly out of appreciation, since it'll be months before I get to it all.
One final note, even though the app can track distances and has a pretty nice web component to track various aspects of your runs (I've just passed 200km total), and the full app even has some missions that are based on distance, all of the 5k trainer missions are strictly timing-based. By the end of training, I could do a 5k in under 30 minutes, but the final mission is nearly an hour to give everyone a chance to finish. I could not run for an hour, so I'd recommend you map out exactly how long 5km is before the last run, and spend the rest of the time celebrating.
blog comments powered by

Disqus